– WESTERN FORCES OPERATED IN SOMALIA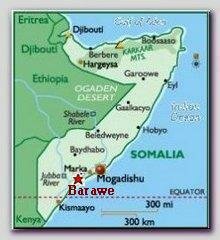 The Somali armed group al-Shabab has said, on Saturday 10/05/2013, that a group of "white Western forces" who arrived in boats attacked a house in one of its coastal bases under the cover of night, drawing gunfire from the fighters and killing one. Foreign forces landed on the beach overnight at Barawe, about 180km south of the capital Mogadishu, and launched an assault that al-Shabab repulsed, Abdul Aziz Abu Musab, a military spokesman for the group, told reporters on Saturday.
Abu Musab said British and Turkish soldiers were involved in the attack.
"We have confirmed that we injured five of them and killed one. The one who died was British. Four of the injured were British and one was Turkish. Only one of our fighters was killed," he claimed.  A resident of Barawe town told the Associated Press news agency that heavy gunfire woke people up before dawn prayers. British and Turkish government officials denied any involvement in the alleged raid.
Somali government and Western intelligence sources said that they believed USA forces were involved in the attack. "We don't know whether there are any non-US troops that might have been involved with this," they said.
"The sources say there were some very high-value targets, including the leader of al-Shabab himself, known as Godane. We understand that, although the Western sources believe that one of the senior al-Shabab commanders may have been killed, they do understand that Ahmed Godane may have survived" according to Al-Jazeera T.V Network. Al-Shabab insisted that there was nobody of any significance in the house at the time of the attack.
It was not immediately clear whether the assault was related to the Westgate Siege. 
USA already launched operations in the area in the past (see – Barawe Raid). US Defence Department confirmed, late on 10/05/2013, that special forces had carried out a seaborne operation in Somalia's coastal town of Barawe. An unnamed officials later said that the Navy Seals failed to find the intended target, who was not identified.

Despite initial rumors that the possible target was Mohamed Abdi Godane, also known as Abu Zubeyr, it appears, according to anonymous security officials in Somalia, that the raid was targeting a Kenyan Somali known as Abdukadir Mohamed Abdukadir, alias Ikrima, probably the chief facilitator of the Westgate Siege, who boasts connections to both al-Shabab in Somalia and to a Kenyan Jihadist group called al-Hijra, the group from where two of the Westgate attackers came.  
According to a Kenyan intelligence report leaked to the US media, Ikrima was planning to attack targets in Kenya last year, including the Westgate shopping mall. According to the report, Ikrima's small "terror cell" included two British nationals: an explosives expert named Jermaine John Grant and the infamous White Widow, Samantha Lewthwaite.
Matt Bryden, director of Nairobi-based think tank Sahan Research, said that although there is no evidence linking Ikrima to the mall attack, his "central position" between multiple Jihadist networks makes it "quite possible he played a leadership role." 
* Norway's TV2 reported, on 10/17/2013, that Abdukadir Mohamed Abdukadir, also known as Ikrima, had traveled to Norway and applied for asylum in 2004 but left in 2008 before there was a decision on his application. 
Pentagon officials said that the raid was planned one week after the Westgate mall attack. 
* USA, simultaneously, launched another special operation in Libya and managed to sieze Sheikh al-Liby.
* Related topics ;
**************************
Read more ;