Human Rights
THE CHIBOK SCHOOLGIRLS – UPDATE
–
On the night of 04/14–15/ 2014, 276 female students were kidnapped from the Government Secondary School in the town of Chibok. a primarily a Christian village, in Borno State, Nigeria. Responsibility for the kidnappings was claimed by… Continue reading →
RIGHTS ACTIVIST KHURRAM ZAKI ASSASSINATED IN KARACH
–
Pakistani Police said,  on Monday 05/09/2016, activist Khurram Zaki was killed at an outdoor cafe in the southern port city of Karachi late on Saturday night (05/07/2016), while two other individuals, Rao Khalid, who is a journalist friend… Continue reading →
RUSSIA'S STRATEGIC TOOL AGAINST EUROPE – ISLAMIC MIGRATION
–
Russia and Syria are deliberately using migration as an aggressive strategy towards Europe, the senior NATO commander in Europe, US Gen Philip Breedlove , has said on Tuesday 03/01/2016 . He said they were "weaponising" migration to destabilise and… Continue reading →
OVER 50 IRAQI SOLDIERS KILLED IN RAMADI
–
At least 55 Iraqi soldiers and pro-government tribal fighters have been killed, on Tuesday 01/26/2016,  in two attacks attributed to the Islamic State, near the city of Ramadi.
The first attack took place in the early hours… Continue reading →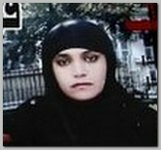 A woman,  27-year-old woman, Farkhunda, beaten to death by an angry mob in front of police in the Afghan capital last week for allegedly burning a copy of Islam's holy book, the Kuraan, was wrongly accused, Afghanistan's top… Continue reading →
Malala Yousafzai, born on 07/12/1997, from Swat District of Pakistan, was shot in her head in Mingora, the region's main city in Swat district on 10/09/2012, because she was an outspoken advocate of education for girls.
Continue reading
Afghan intelligence, on Wednesday 06/06/2012, accused Pakistani spies of poisoning schoolgirls in Northern province Takhar.
Continue reading
A group of armed men have stoned and shot dead a woman and her daughter in the Afghan province of Ghazni, security officials said on Friday 11/11/2011.
Continue reading
– WILDERS ACQUITED OF HATE CRIMES
Dutch politician Geert Wilders has been acquitted, on Thursday 06/23/2011, of charges of inciting hatred against Muslims. Continue reading
– CONVICTED OF BLASPHEMY AND DIED IN PRISON
Qamar David, a Christian convicted of blasphemy in Pakistan has died in mysterious circumstances in a jail in the southern city of Karachi, police said on Tuesday 03/15/2011. Continue reading