Hostages
20 KILLED IN BANGLADESH DHAKA'S HOSTAGE CRISIS
THE CHIBOK SCHOOLGIRLS – UPDATE
–
On the night of 04/14–15/ 2014, 276 female students were kidnapped from the Government Secondary School in the town of Chibok. a primarily a Christian village, in Borno State, Nigeria. Responsibility for the kidnappings was claimed by… Continue reading →
–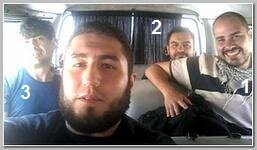 3 Spanish journalists who went missing after entering Syria are feared to have been kidnapped, according to reports.
Antonio Pampliega, Jose Manuel Lopez and Angel Sastre disappeared after entering the county through Turkey on 07/10/2015,, according to the… Continue reading →
3 AMERICANS ABDUCTED IN IRAQ -FREED
–
The same day that the nuclear deal with Iran became valid, on Sunday 01/17/2016,  the sanctions on Iran were lifted and America celebrated the release of last 5 Americans held in Iran,  practically as hostages, US confirmed… Continue reading →
GERMAN ARRESTED A SYRIAN REFUGEE TERROR SUSPECT
–

A Syrian has been arrested in the south German city of Stuttgart, on Saturday 01/23/2016, on suspicion of helping to kidnap a UN peacekeeper in Damascus, prosecutors say.  The suspect is named only as Suliman A-S, 24,… Continue reading →
– 10 US SAILORS ABDUCTED BY IRAN IN THE GULF
–
On Tuesday  01/12/2016 gulf time  Iran seized 2 small USA Navy boats, with 10 sailors on boards, on a patrol mission from Kuwait to Bahrain, near the Iranian claimed Farsi Island just in the middle of the… Continue reading →
– MALI HOSTAGES CRISIS – 27 HOSTAGES KILLED
–
* 170 hostages, including 140 guests and 30 employees at the 190 rooms Radisson Blu Hotel in the Malian capital Bamako, were seized by Islamic gunmen.  on Friday 11/20/2015 AT at about 08:30 local time, the hotel said… Continue reading →
– ITALIAN CESARE TAVELLA KILLED BY ISIS IN BANGLADESH
–
The Islamic State says, on Tuesday 09/29/2015,  it carried the attack, shooting dead Cesare Tavella, 50, in the Bangladesh's capital Dhaka diplomatic quarter. In its claim, I.S.I.S warned that "citizens of the crusader (the Jihadi term… Continue reading →
– ISIS HITS BACK WITH A 'KILL LIST'
–
A group calling themselves the Islamic State Hacking Division has purportedly posted, on Wednesday 09/09/2015, the names, photos, and home addresses of 100 U.S. military service members, urging followers to kill them.
The service member's' personal information was… Continue reading →
–

Just recently the Islamic State added Turkey, initially their godfather, to their long list of enemies responding to the new cooperation between U.S and Turkey in fighting I.S.I.S.
Masked men, on Wednesday 09/02/2015 dawn,  in military uniforms kidnapped… Continue reading →