Monthly Archives:
November 2015
– HIZBALLAH SPY HASSAN HIZRAN SENTENCED IN ISRAEL
–
The Lod District Court in Central Israel sentenced, on Sunday 11/29/2015,  a Swedish citizen of Lebanese origin, Hassan Khalil Hizran, to a year and a half in prison, after the was convicted of providing information to Lebanese terrorist group… Continue reading →
– 2 WEAPON BOATS HIT BY SAUDI JETS
–
Warplanes from the Saudi-led coalition hit, on Saturday 11/28/2015, two small boats allegedly carrying weapons to Iran-backed Houthi militias on the southern coast of Yemen, a military official said.
Weapons were being unloaded from the two fishing boats near… Continue reading →
– 4 EGYPTIAN POLICEMEN KILLED IN DRIVE-BY SHOOTING
–
Four Egyptian police have been killed in a drive-by shooting, security officials said on saturday 11/28/2015.. The shooting happened in the Saqqara area, some 35km (22 miles) south of the capital Cairo.
The unidentified attackers opened fire on a… Continue reading →
– ITALY TO CLOSE CLANDESTINE MOSQUES
–
The Italian government intends to close down clandestine mosques in the country as part of the fight against terrorism, Interior Minister Angelino Alfano announced Friday 11/27/2015. "In Italy, we have four mosques and over 800 places of Muslim worship,"… Continue reading →
– 12 TROOPS KILLED IN TUNISIA
–
– 12  people were killed and 17 were wounded, on Tuesday 11/24/2915,  as a bomb tore through a bus carrying Presidential Guards in Tunisia's capital in an explosion described by the president's office as a "suicide attack,"
Tunisian President… Continue reading →
– CRACKS IN ANTI-ISIS COALITION, TURKEY DOWNED A RUSSIAN FIGHTER JET
–
Just two days ago, on 11/22/2015.  it seemed as rival nations with conflicting interests are coming together to form a "Grand coalition' as French President Francois HOllande described it after the Paris Terror Carnage of Friday 11/23/2015, to fight… Continue reading →
– 2 AUSTRIAN MUSLIM TEEN KILLED IN SYRIA
–
* Samra Kesinovic (1), 17, and Sabina Selimovic (2), 16 ,disappeared in 04/2014 . They appeared on social networking sites brandishing Kalashnikov rifles  UN said one girl, believed to be Sabina Selimovic was killed in Syria in… Continue reading →
– 23 ISRAELIS & 80 PALESTINIANS KILLED IN LAST TWO MONTHS
–

The last wave of violence between Israelis & Palestinians is a sorte of PoPular uprising ( Intifada ) carried out by "lone wolfs ". women & men, teens & elderly, without initial planning, very often in an instant spontaneous… Continue reading →
– 11 ISIS AFFILIATED KILLED IN NALCHIK, THE CAUCASUS
–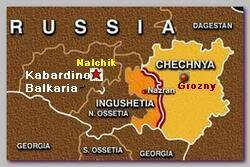 11 militants affiliated to I.S.I.S have been killed by security forces in Russia's North Caucasus region. Russia's national anti-terrorism committee said in a statement cited by TASS news agency on Sunday.
"All of them were participants in an armed… Continue reading →
– BRUSSELS ON MAXIMUM ALERT