Female bombers
2 FEMALE BOMBERS KILLED 22 IN NORTHERN NIGERIAN MOSQUE
34 KILLED IN ANKARA' CAR BOMB BLAST
–
About 34 deaths and 125 injuries have been reported in central Ankara after a car bomb exploded, on Sunday 13/03/2015 evening, in Kizilay neighbourhood near transport hub in Ankara,  the Turkish capital.
It is the third… Continue reading →
– OVER 10 KILLED IN CAMEROON MOSQUE BOMBING
–
Two female suicide bombers, on Wednesday 01/13/2016, have attacked a mosque in a town near Cameroon's border with Nigeria, killing at least 10 people and wounding about a dozen others, the governor of the region said.
The attack during… Continue reading →
– MALI HOSTAGES CRISIS – 27 HOSTAGES KILLED
–
* 170 hostages, including 140 guests and 30 employees at the 190 rooms Radisson Blu Hotel in the Malian capital Bamako, were seized by Islamic gunmen.  on Friday 11/20/2015 AT at about 08:30 local time, the hotel said… Continue reading →
– FRENCH POLICE RAIDED SAINT DENIS, PARIS, TO FOIL FURTHER ATTACKS
–
Saint Denis Northern Suburb of Paris, the same district of Stade de FRance, is  inhabited by mainly Muslim immigrants from Northern Africa, the Maghreb, witnessed violent anti-police riots in the past, was and is a breading ground and… Continue reading →
– A TRIPLE SUICIDE ATTACK KILLED DOZENS IN NORTHERN NIGERIA
—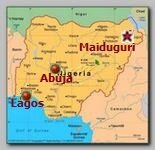 At least 39 people have died, on Friday 10/16/2015,  after multiple explosions in the Nigerian city of Maiduguri, an emergency official said.
Three female suicide bombers, thought to be aged between 11 and 15, struck on Friday morning,… Continue reading →
An explosion at a train station in the southern Russian city of Volgograd has killed at least 17 people on Sunday 12/29/2013, reports say.
Continue reading
A female suicide bomber, Madina Alieva, blew herself up in the southern Russian region of Dagestan on Saturday 05/25/2013, injuring at least 18, including two children and five police officers, police said.
Continue reading
Twin tandem suicide attacks outside Makhachkala, Dagestan's capital, late on Thursday 05/03/2012, killed 13, 7 of whom were policemen,
Continue reading
Aminat Kurbanova (maiden name Saprykina), was born in 1982 in Dagestan and a resident of Dagestan's capital, Makhachkala.
Continue reading