Institutions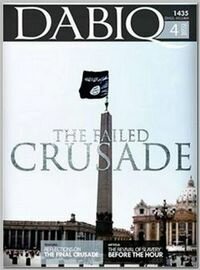 * 'Dabiq' is the Islamic State's non Arabic periodical online  Magazine, named after a key site in Muslim apocalyptic mythology. Dabiq is a place in Northern Syria near Aleppo  The town is the site of the decisive battle… Continue reading →
Earlier this month, 03/2011, Al-Fajr, a jihadist media distribution outlet, published the first issue of Al-Shamika, an online magazine designated specially for female Jihadi audience.
Continue reading
– AL-HARAMIAN ISLAMIC FOUNDATION
Al-Haramain Islamic Foundation was a foundation, based in Saudi Arabia, but with branches all over the world. Continue reading
The King Fahd Academy was founded in 1994 and is subject to direct control of the Saudi Arabian embassy in Germany.
Continue reading
Al-Nur Mosque in Neukolln, Berlin was founded in 2001 by a Saudi and two Lebanese citizens. The purchase of the property was to 75% funded by the Saudi Al Haramain.
Continue reading
– ISLAMIC CULTURE CENTER – BREMEN
Islamic Culture Center Bremen -IKZ had been established in 2001 (See –IKZ WEBSIT). During the weekly Friday around 250-350 Muslims. Continue reading
– ISLAMIC INFORMATION CENTER – IIZ
On February 1, 1999, the Islamic Information Center -IIZ was founded, on 02/01/1999 in Ulm, just across the Danube River and Neu-Ulm, Continue reading
– GERMAN MULTI CULTURAL HOUSE
MULTI CULTURAL HOUSE – In German Multi Kultur Haus – MKH, was founded in 1996 by Ramez Aly, an Egyptian Jamaah Islamiyah member and Dr. Aldy el-Attar, Continue reading
– THE 7th MUSLIM LIBERATION BRIGADE
In late 1993 the first organized group called "El-Mujahid", manned mainly by Algerians, recruited and commanded by Anwar Shaaban began to operate in the region between Zenica and Tuzla, in central Bosnia. Continue reading
– THE GOLDEN CHAIN
The Golden Chain refers to a list of purported sponsors of Islamic Charities with ties to Al Qaeda that was seized in 03/2002 in a raid by Bosnian police authorities. Continue reading