Naval operations
THE WEAPON'S TRIAL TO YEMEN & SOMALIA
–
The USA Navy said in a statement Monday04/04/2016 it has seized a weapons shipment in the Arabian Sea from Iran likely heading to war-torn Yemen.
The Navy said that the USS Sirocco on 03/28/2016 intercepted and seized the… Continue reading →
OVER 150 AL-SHABAB KILLED BY U.S AIRSTRIKE
–
An USA airstrike has killed more than 150 al-Shabab militants in Somalia, the Pentagon said on Monday 03/07/2016 evening. Spokesman Captain Jeff Davis said the strike hit a training camp where a "large-scale" attack was being planned. "Initial assessments… Continue reading →
– 10 US SAILORS ABDUCTED BY IRAN IN THE GULF
–
On Tuesday  01/12/2016 gulf time  Iran seized 2 small USA Navy boats, with 10 sailors on boards, on a patrol mission from Kuwait to Bahrain, near the Iranian claimed Farsi Island just in the middle of the… Continue reading →
– 2 WEAPON BOATS HIT BY SAUDI JETS
–
Warplanes from the Saudi-led coalition hit, on Saturday 11/28/2015, two small boats allegedly carrying weapons to Iran-backed Houthi militias on the southern coast of Yemen, a military official said.
Weapons were being unloaded from the two fishing boats near… Continue reading →
– BAHRAIN SUSPECTS IRAN BEHIND HUGE EXPLOSIVE STASH
–
Since the Bahrain Crisis of early 2011 and the beginning of the Arab Spring Bahrain is, actually, a Saudi proxy in constant tension between the 'original" Sunni population, now a minority in Bahrain. and the foreign workers, almost… Continue reading →
– YET ANOTHER IRANIAN WEAPONS SHIPMENT SEIZED
–
Arab coalition forces, not the failed American led coalition against I.S.I.S but the Saudi led coalition  against pro Iranian Houthi Saada Rebels in Yemen,  have announced,.  on Wednesday 09/30/2015, the capture of an Iranian boat carrying… Continue reading →
–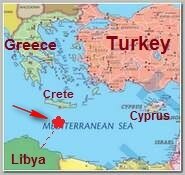 The Greek Coast Guard has seized, on Tuesday 09/01/2015,  a vessel carrying ammunition and weapons near the southern island of Crete, authorities said, according to the Associated Press. The shipment is believed to be linked to the Islamic… Continue reading →
Israeli Naval commandos, on Wednesday 03/05/2014 morning, intercepted a ship named KLOSC and operated by Iran, in the Red Sea weighed down with missiles that was en route to the Gaza Strip.
Continue reading
Egyptian officials said, on Saturday 08/31/2013, they have foiled an attack on a container ship which was aimed at disrupting shipping in the busy, stratigic Suez Canal.
Continue reading
Yemen said, on Monday 01/28/2013, they have seized a boat in their territorial waters filled with a large quantity of explosives, weapons and money.
Continue reading