Monthly Archives:
January 2016
ABOUT 65 KILLED IN BOKO HARAM'S RAID IN NIGERIA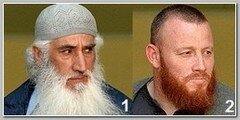 Two British citizens, Shah Jahah Khan (1), 62, of St Catherine's Avenue, Luton and Muslim convert Ibrahim Anderson (2), 38,  of Dallow Road, also in Luton, accused of  handing out leaflets on a London street in support… Continue reading →
OVER 60 KILLED IN DAMASCUS'S ZAYNAB SHRINE BLAST
–
Amide the very start of "Peace Talks" between Assad's regime and "opposition" in Geneva, Switzerland, in which Islamic Sunni militants are not represented, over 60 people, including about 25 Shiite fighters (Hizbullah & Iranians), were killed and over 110 injured, on… Continue reading →
TAREENA SHAKIL CONVICTED IN BIRMINGHAM
–
A young mother  (pic-L), 25,  has run away, probably on 10/24/2014, to Syria with her baby son Zaheem after becoming obsessed with extremist propaganda she found online.  
Tareena Shakil, a one-time Spice Girls fan, school prefect and… Continue reading →
– 2 SUICIDE BOMBERS ATTACKED A MOSQUE IN EASTERN SAUDIA
–
Four people were killed and 18 wounded, on Friday 01/29/2016, when a suicide bomber attacked a mosque in Saudi Arabia's eastern governorate of al-Ahsa, a Saudi interior ministry spokesman said. The Eastern provinces of Saudi Arabia has a large… Continue reading →
– EURODISNEY SCARE
–
French police arrested, on Thursday 01/28/2016, a man carrying two low-caliber handguns at the Euro Disney amusement park outside Paris, an Interior Ministry official said.
French media had said that the man had been carrying the two guns concealed… Continue reading →
– EUROPE COULD FACE WAR "WITHIN A FEW YEARS'
–
Citing the situation in Sweden, the recent decisions of domestic politicians, and global instability, the chief of the Swedish army General Anders Brännström told men under his command they could expect to be fighting a war in Europe against… Continue reading →
– NIGERIA'S CHIBOK MULTIPLE SUICIDE ATTACKS
–
Suicide bombers, on Wednesday 01/27/2016,  have hit the north-eastern Nigerian town of Chibok during market day, killing at least 13 people, reports said.
At least three attackers were involved, some of them female, witnesses said. More than 30 people… Continue reading →
– OVER 50 IRAQI SOLDIERS KILLED IN RAMADI
–
At least 55 Iraqi soldiers and pro-government tribal fighters have been killed, on Tuesday 01/26/2016,  in two attacks attributed to the Islamic State, near the city of Ramadi.
The first attack took place in the early hours of Tuesday when… Continue reading →
– SAMY HAMZEH ARRESTED IN MILWAUKEE ACCUSED WITH TERROR
–
The FBI arrested. on 01/25/2016. a 23-year-old Milwaukee man Samy Mohamed Hamzeh, accused of plotting a mass shooting at Masonic temple in Wisconsin. The FBI announced that Samy Hamzeh had been arrested on weapons charges. According to the… Continue reading →