HUNT IN TURKEY AFTER 3 ISIS OPERATIVES
–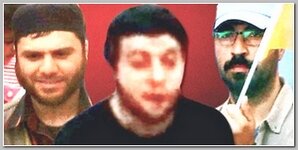 Turkish police were searching Monday 03/21/2016 for three alleged I.S.I.S members suspected of planning further attacks after a suspected ISIS suicide bombing in Istanbul that killed four foreigners, Dogan news agency reported. 
Turkish media published photographs of the three suspects, named as  Haci Ali Dumaz,  Savas Yildiz end Yunus Durmaz. 
According to police sources quoted by Dogan, the three — all Turkish nationals — are believed to be planning attacks in busy public spaces,  including in Istanbul.  
–
Savas Yildiz, probably the ringleader of the cell of four would be suicide bombers.was initially suspected of being the bomber who blew himself up Saturday 03/19/2016 in Istanbul's famous Istiklal Caddesi, a two-kilometre-long pedestrian shopping street in the heart of the European side of the city. He was twice questioned by the Turkish police in early 2015 over his possible links to I.S.I.S and afterward fled to Syria. 
The Turkish Security establishment believes, based on the initial investigation of Savas Yildiz and the background of the other operatives, that the cell was planning an attack similar to the Paris Stade de France on 11/03/2015, to commit a series of suicide attacks in and around the Istanbul football stadium during the local derby .
The bombing was the sixth in Turkey since July, four of which have been blamed on ISIS. The other two were claimed by Kurdish rebels. Over 200 people have been killed and hundreds more injured in the bloodshed. 
In a sign of the climate of fear in the country, a football derby between Istanbul arch-rivals Galatasaray and Fenerbahce was postponed Sunday two hours before kickoff, after the authorities received information about a "serious" threat.
.
.
Related topics ;
–
02/2016 –ANKARA EXPLOSION KILLED AT LEAST 28 MILITARY PERSONNEL  
12/2015 – TURKEY FOILED NEW YEAR EVE'S SUICIDE ATTACKS
12/2015 – THE KURDISH THIRD INTIFADA (UPRISING)  
09/2015 – TURKEY TRAPPED IN ITS NEW WAR   
08/2015 – PAYBACK TIME: ISIS "WE WILL CONQUER ISTANBUL" 
——————————-
Read more ;
–
NDTV.COM 
YNETNEWS