– MODERATE IMAM KILLED IN DAGESTAN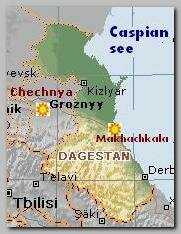 Dagestan is a small republic in the Russian federation located in the Caucasus between the Caspian sea in the East and the troubled region of Chechnya in the West. Dagestan is a prominent Muslim republic and suffered from Chechen incursions, terror attacks, Islamic militancy and a strong local "Mafia" style gangs.
On Saturday 09/29/2007 Nurmagomed Gadzhimagomedov, a local moderate Muslim Imam from the Mosque in the Dagestani village of Gudben, in a Southern district in Dagestan,  was killed by gun shots on his way to morning prayers.
Just a day earlier, on Friday 09/28/2007, Nurmagomed Gadzhimagomedov had spoken out against Islamic extremism and militancy during the weekly sermon at his Mosque.
The main threat to the Islamic Global Jihad, far more then any military activity, is the moderate Muslim Imams and publicists, who are yet a small minority in the Islamic society opposed to extremism, Wahhabism or any violent interpretation of Islam or Jihad.
So far most of the moderate tolerant Islamic ideological opposition to the idea of violent Global Jihad is operating outside the Muslim World from places like London or North America. Those who are preaching any reservation to Al Qaeda's ideology and are not protected by the local regimes are still, unfortunately, risking, literally, their life.  So was the case of the Imam Nurmagomed Gadzhimagomedov.
* Related topics – 
********************
Read more ;