FRENCHNAN REDA KRIKET ARRESTED
–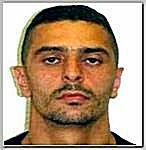 French police, on Thursday 03/24/2016 evening,  launched an anti-terrorism operation in Argenteuil, north-west of Paris, following the arrest hours earlier of Reda Kriket, 34, a man suspected of planning an attack.
Interior Minister Bernard Cazeneuve said the Reda Kriket, a French national born in Paris, was in an "advanced stage" of a plot. Reda Kriket was already convicted in his absence by a Brussels court lin 07/2015 for recruiting I.S.I.S members to go to Syria, officials say. He was sentenced along with Abdelhamid Abaaoud, considered the main organiser of the Paris attacks and killed in a police raid in Paris days later.  
This arrest is the result of a careful investigation that began several weeks ago, and which mobilized important human and technical surveillance resources, as well as close and ongoing cooperation with European intelligence agencies," said the interior minister.
According to France Inter, TATP explosive material and "an arsenal" of arms, including kalachnikovs (AK-47) and handguns, were found during the search in Reda Kriket's home and he has been described by authorities as "extremely dangerous"
Two suspects have also been arrested in north-western Germany in connection with the Brussels investigation, Der Spiegel is reporting.
One, called Samir E, was reportedly detained on Thursday afternoon in the Dusseldorf area and has links with the Brussels metro bomber, Khalid el-Bakraoui.
Another suspect, detained in the Giessen area on Wednesday 03/23/2016, had suspicious text messages on his phone on the day of the Brussels bombings.
.
.
Related topics ;
–
03/2016 – SALAH ABDESALAM'S INTERROGATION – UPDATE 
03/2016 – 4 NABBED IN PARIS FOR PLANNING IMMINENT ATTACK
03/2016 – 2 TEEN FRENCH GIRLS, INSPIRED BY BETACALN, PLANNED ATTACK 
02/2016 – ZAHIR MEHDAOUI, LINKED TO PARIS CARNAGE, ARRESTED IN ALGERIA 
01/2016 – EURODISNEY SCARE   

—————————-
Read more ;
–
BBC NEWS
IBTIMES
VALEURSACTUELLES
THELOCAL.FR
ALBAWABA