OFFICER NICHOLAS YOUNG ARRESTED IN U.S OVER TERROR
–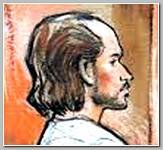 A Metro Transit police officer, Nicholas Young (pic-L), 36,  of Fairfax, Virginia, .has been arrested on Wednesday 08/03/2016 morning, and charged with attempting to provide material support to the Islamic State, marking the first time a U.S. law enforcement officer has been accused of trying to aid the terrorist group.
Nicholas Young, A Metro police since 2003, was arrested at Metropolitan Police Headquarters in Washington and his employment was terminated. Young, at the request of an undercover federal agent, sent codes for mobile messaging cards that Young believed would be used by Islamic State fighters overseas to communicate, according to an indictment filed in federal court in Alexandria, Va. He has been monitored regularly by the FBI, working with Metro police, since 2010.
Authorities said there was never any credible or specific threat to the Metro system. Metro Transit Police Chief Ron Pavlik said in a statement that the investigation into Young began years ago when his office went to the FBI with concerns.
According to the indictment, Nicholas Young was focused on activity abroad, not in the D.C. area. He told law enforcement at one point that he had traveled to Libya twice in 2011 to fight against the late Muammar Gaddafi. He gave a person working with law enforcement advice on how to travel to Syria. Believing the person had actually made it abroad, Young then allegedly complied with a request to purchase gift cards for mobile messaging accounts used in Islamic State recruiting. The codes, worth $245 according to authorities, were redeemed by the FBI.
At various points, according to the indictment, Young told agents — both undercover and not — that he tortured animals as a child, had dressed up as Jihadi John and as a Nazi, and collected Nazi memorabilia. He showed an agent a tattoo of a German eagle on his neck, according to the indictment.
That conversation occurred in 06/2015, when law enforcement came to Young's house in response to an allegation of domestic violence, according to the indictment.
Nicholas Young also talked to an undercover agent about killing FBI agents and bringing guns into the agency headquarters or the Alexandria courthouse, the indictment said. He allegedly told the agent that if he was ever betrayed, that person's head would be found in a cinder block at the bottom of Lake Braddock. However, the agent doubted Young intended to act on his words, according to the documents.
However, Young did appear to own a large number of firearms, according to the indictment.
Authorities say Nicholas Young was acquainted with both Zachary Chesser and Amine El Khalifi, who the following year was arrested for plotting to bomb the capitol.
.
.
Related topics;
–
07/2016-ANOTHER AMERICAN, MOHAMED JALLOH, DETAINED OVER TERROR
06/2016 – 50 KILLED IN U.S' ORLANDO CLUB BY ISLAMIST OMAR MATEEN  
05/2016-AZIZJON RAKHMATOV CHARGED IN N.Y WITH AID TO ISIS
03/2016-MISSISSIPPI COUPLE ATTEMPTED TO JOIN ISIS PLEADED GUILTY 
01/2016- POLICE OFFICER IN U.S SHOT 'IN THE NAME OF ISLAM'  
——————  
Read more ;
–
WASHINGTONPOST
HEAVY.COM