NAJIM LAACHROUI & MOHAMMED BELKAID
–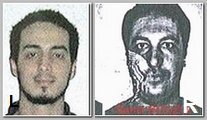 Salah Abdesalam, nabbed on Friday 03/18/2016,  cooperated with his interrogation. He revealed  the true identity of one of his alleged accomplices in the deadly Paris attacks of 11/13/2016 as  Najim Laachroui  (L), 24, who used a fake name, Soufiane Kaya, and is wanted for arrest. He went to Syria to join I.S.I.S Already in 02/2013 .  Najim Laachraou, using the alias "Abu Idriss" served as one of the Islamic State's jailers and guarded 4 French journalists who were held hostage in Syria in 2013-2014, the ex-hostages said. They were freed in 04/2014.
Najim Laachraoui, ,  the younger brother of Mourad Laachraoui, who represents Belgium in Taekwondo, appears to have studied electromechanical engineering at a Catholic high school in Schaerbeek, the Institut de la Sainte-Famille d'Helmet, graduating in 2012, according to an alumni newsletter.  
–
Najim Laachroui rent a safe house used by the attackers in Belgium — and was one of two men who were with Salah Abdeslam in a car that was checked by Hungarian police on 09/09/2015 with Samir Bouzid, whose real name was Mohammed Belkaid (R), 36,  according to the Flanders News website. Belkaid was shot dead by the Belgian police in Forest suburb of Brussels on 03/15/2016.
The authorities found Laachroui Najim's DNA at the house in Auvelais and also at a house on Rue Henri Bergé, in the Schaerbeek section of Brussels, that was searched on 12/10/2015. In the property on Rue Henri Bergé, investigators found traces of TATP, which has become the signature explosive for Islamic State operations in Europe, can be made with common household products and was an ingredient in the suicide vests used in the Paris assaults. His DNA was also  found at sites of the November Paris attacks.

Along with Laachroui Najim, the authorities are also searching for Mohamed Abrini  
(pic-L), 31, who was recorded by a surveillance video camera with  Salah Abdesalam two days before the Paris attacks — at around 7 p.m. on11/11/2015 — at a gas station in Ressons-sur-Matz, France, on the highway to Paris.
Belgian news site RTL reports that investigators believe there's a high probability that Belkaid was one of a small number of people who received a text message on the 11/13/2015 night when ISIS operatives attacked civilians in Paris. The message read: "We left, we begin."  
Najim Laachroui may also have made the devices used in the Brussels suicides attack, on Tuesday 03/22/2016. . He blew himself up in Brussels' Zaventem airport on Tuesday 03/22/2016 morning .
** Triacetone Triperoxide – TATP, is a homemade explosive commonly used by the Palestinians in their terror campaign against Israel.
.
.
Related topics ;
–
03/2016 – 4 NABBED IN PARIS FOR PLANNING IMMINENT ATTACK 
03/2016 – 2 TEEN FRENCH GIRLS, INSPIRED BY BETACALN, PLANNED ATTACK 
02/2016 – ZAHIR MEHDAOUI, LINKED TO PARIS CARNAGE, ARRESTED IN ALGERIA 
01/2016 – EURODISNEY SCARE 
01/2016 – PROFILE -CHAKIB AKROUH 
——————————
Read more :
–
NPR.ORG 
NY-TIMES
REPUBLICA-IT
BBC NEWS
BBC MORE NEWS