FAYCAL CHEFFOU – THE BRUSSELS' SUSPECT – RELEASED !
–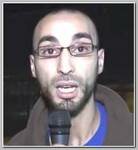 * Faycal Cheffou, 30, from Brussels, Belgium, is claiming to be a "freelance journalist". He has previous convictions for offences including receiving stolen goods dating back more than a decade, a Belgian newspaper, La Capitale, reported.cThe report added that Cheffou's older brother, Karim, was shot dead by police during an arrest in 2002. A Kalashnikov AK-47 and grenades were reportedly found at his home in Schaerbeek. 
Faycal Cheffou  is known for only one report. In a video uploaded to YouTube two years ago, in 07/2014, Faycal Cheffou reports from outside an immigration detention centre in the Belgian province of Steenokkerzeel. With shouting and banging clearly audible from the building in the background, he claims the migrants and asylum seekers are protesting inside because they have not been fed and tells the camera they have been "totally forgotten by the rest of the world". A description beneath the video said "Belgian Muslims must act urgently to stop the abuses." 
With more than 900 subscribers in his Facebook page, not under his name, the most recent video was uploaded in 02/2016 and subjects include alleged human rights abuses against Palestinians, the Quran, police brutality and reporting on Hasna Ait Boulahcen, who died in Saint Denis raid linked to the Paris attacks..
Faycal Cheffou has allegedly been watched by Brussels police for months after being accused of attempting to radicalise refugees at a makeshift camp in Maximilien Park, Le Soir reported.
On Thursday 03/24/2016 night, Faycal Cheffou was shot in his leg and arrested, alongside two other suspects, a man 7 a woman, near the Belgian Chief Prosecutor office in Brussels carrying  a bag of explosive materials. He was identified by the taxi driver who drove the three would be suicide bombers from Schaerbeek neighborhood of Brussels to Zaventem Airport on Tuesday 03/22/2016 early morning as the third passenger  and is suspected also of being the would be suicide bomber who failed to activate his explosive belt.
Belgian media report that Faycal Cheffou is the man pictured wearing a distinctive white coat and hat alongside suicide bombers Najim Laachraoui and Ibrahim el-Bakraoui in the departures terminal on Tuesday morning.
A search conducted at Cheffou's home found no weapons or explosives, according to the federal prosecutor's office.
Faycal Cheffou was charged, on Saturday 03/28/2016,with terror offences in connection with the explosions at Brussels Airport and Maelbeek Metro station. He has been released for lack of evidence on Monday 03/28/2016.

.
.
Related topics ;
–
03/2016 – TOP JIHADIST MOHAMED ABRINI 
03/2016 – FRENCHNAN REDA KRIKET ARRESTED 
03/2016 – NAJIM LAACHROUI & MOHAMMED BELKAID   
01/2016 – PROFILE – CHAKIB AKROUH  
12/2015 – FRENCH JIHADIST CHARAFFE AL-MOUADAM KILLED IN SYRIA
——————————
Read more :
–
INDEPENDENT 
BUSTLE.COM 
MIRROR-U.K
BBC NEWS